Get a Business Loan Quote within 60 Minutes
MacManus Asset Finance is a leading independent commercial finance brokerage, and has traded since 2005. We are authorised and regulated by the Financial Conduct Authority and are full members of the National Association of Commercial Finance Brokers
Business Loans for Cashflow, Working Capital, Refinancing, Expansion & Growth.
Terms from 3 Months to 60 Months.
Best Priced Funding from Market Wide Panel of Lenders.
Dedicated Account Manager Assisting You from Beginning to End.
Fee Free Brokerage Service
Access Business Loans for Cashflow, Growth or Consolidation
Some business loans are agreed without any guarantee requirements and are advanced based on the strength of
the applicant company.
Types of Business Loans we offer
Business Loans can be arranged typically from 3 months up to 60 months and can therefore solve a wide number of issues from very short term to longer term funding requirements.
Typically a business loan is a suitable option if none of the above facilities are more appropriate to the purpose funding is required for.
A business may need a 3 to 12 month loan to cover an unexpected event for which funding is immediately required but can be cleared very quickly by future revenue or perhaps a lump sum of funds due to be received shortly.
Examples of this could be to cover tax bills, insurance premiums, a bad debt, clients changing payment terms, a vehicle or asset breakdown or other short term cashflow blip.
Business loans between 1 and 5 years are often sought for medium to long term requirements. These can include investment in growth to fund new staff costs with turnover increases taking time to catch up with the immediate additional employment cost.
Other examples can include refurbishment of commercial property, other business debt consolidation, funding to buy out a shareholder, to assist in providing liquidity to trade through an industry or general economic downturn or recession.
Why choose MacManus Finance for Business Loans?
With MacManus Finance you are in safe hands. We are directly authorised by the Financial Conduct Authority and are full members of the National Association of Commercial Finance Brokers, and have a customer base of almost 300 UK businesses that we have supported for over 15 years, and an extensive funding panel allowing us to offer your business a one stop shop solution.
Our business ethos is based around the phrase "Never Just a Number" – and we take pride that our clients never feel like they are just a number to us, as so many business owners are made to feel by larger financial institutions.
Your business success is our business success, we never take our clients for granted, and will always aim to deliver more than our clients expect.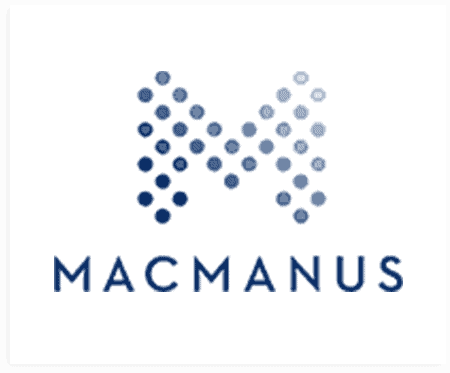 How to apply for Business Loans with MacManus Finance
We make your Business Loan journey as simple as possible.
From your first call, email or completed webform we will act as your trusted partner, understanding your objectives and putting together options for you to consider.
We may need to ask you some general business questions and ask for some financial information from you in order to carefully prepare your personalised quotation from our funding panel.
Once you have reviewed your no obligation quotations and are happy to proceed we will prepare your application and liaise with the lenders to secure the funding you need.
Unlike some brokerages, we do not charge you any payments or fees for our brokerage service, so your engagement with us is entirely cost, risk and obligation free.
Once agreed we will ensure that completion happens efficiently and to your timescales
Still have more questions regarding Business Loans?
Contact us for simple and easy answers to all your questions
MacManus Asset Finance Ltd Registered Office: 1a Ynysmeurig Road, Abercynon, CF45 4SY Company Registration Number: 5785432 MacManus Asset Finance Ltd is Authorised and Regulated by the Financial Conduct Authority. Firm Number 821663. MacManus Asset Finance Ltd is an independent asset finance brokerage not a lender, as such we can introduce you to a wide range of finance providers depending on your requirements and circumstances. We are not independent financial advisors and so are unable to provide you with independent financial advice. MacManus Asset Finance Ltd may receive payments(s) or other benefit from the finance provider if you decide to enter into an agreement with them.
MacManus Asset Finance Ltd © Copyright 2020