What are VAT Loans?
If you're a UK business owner, you'll be familiar with the challenge of managing your VAT payments. These payments are due quarterly and can put a strain on your cash flow, particularly if you're a smaller business. One option available to businesses to help ease this burden is a 3-month VAT loan. In this blog post, we'll explore the key features of a 3-month VAT loan and how it can benefit your business.
Short-term finance: A 3-month VAT loan is a type of short-term finance that allows businesses to borrow money to cover their VAT payments for three months. This means that the loan is repaid over the same period as the VAT payment cycle, making it easier for businesses to manage their cash flow.
Flexible loan amounts: VAT loans are typically available for amounts up to the value of your VAT payment. This means that you can borrow the exact amount you need to cover your VAT payment, rather than having to borrow more than you need.
Quick and easy application process: The application process for a VAT loan is usually quick and straightforward, with many lenders offering an online application process. This means that you can apply for a VAT loan and receive a decision quickly, allowing you to access the funds you need to cover your VAT payment.
Fixed interest rates: VAT loans typically have fixed interest rates, which means that the interest rate you pay is fixed for the duration of the loan. This can make it easier to budget and plan for your repayments, as you know exactly how much you'll be paying each month.
No early repayment penalties: Many VAT loans allow you to repay the loan early without incurring any penalties. This means that if you're able to pay back the loan sooner than the agreed term, you can do so without any additional costs.
Avoid penalties for late payment: By taking out a VAT loan, you can ensure that you have the funds to make your VAT payment on time, avoiding any penalties for late payment from HM Revenue & Customs (HMRC).
In conclusion, a 3-month VAT loan can be a flexible and cost-effective way for UK businesses to manage their cash flow and avoid penalties for late payment. With a quick and easy application process, fixed interest rates, and the ability to repay the loan early without incurring penalties, a VAT loan can help businesses to budget and plan for their VAT payments with confidence.
Get a VAT Loan Quote Here
The Benefits of VAT Loans
VAT Loans offers many benefits to UK businesses, including:
Cashflow Benefits – Without sufficient cash reserves, every business will eventually fail. VAT Loans provide an extra stream of funding that can be used in addition to bank overdraft or invoice finance facilities, without impacting on these existing facilities. This added stream can even out cashflow peaks and troughs. Not only that but the extra working capital available can be used to reduce costs elsewhere, and is available for other business growth or investment needs.
Cost Saving Benefits – Some businesses have found themselves in the painful position of incurring VAT late payment penalties (surcharges) from HMRC even when filing their payments a day or so late. Repeated late payments see an escalating penalty being applied and it can reach as high as 15% added to the VAT liability. When a business is in this position it can be very hard to break the cycle. By ensuring VAT is paid on time, every time, businesses already subject to surcharge can see an immediate reduction in costs, and other businesses can rest assured that they won't find themselves running the risk of being in this position.
HMRC Relationship Benefits – having a great relationship with HMRC is very helpful if and when VAT and other tax inspections are undertaken. By ensuring that VAT is paid on time HMRC can build a picture of a properly managed and well run company that settles its affairs in a timely manner.
Peace of Mind Benefits – with so many things pulling at the focus of a business owner there is alot to be said for having order and structure in place in as many business areas as possible. By ensuring that a VAT loan facility is always in place a business owner has one less thing to worry about and can be confident that VAT will be paid on time, costs are more evenly spread and cashflow is being maximised.
Security Benefits – most forms of lending require some form of security offered by the borrower to the lender. Overdrafts, for example, will typically require the business to offer a debenture over all business assets to their bank. Sometimes this can extend to charges over directors' homes. Security in VAT Loans, on the other hand, is often offered entirely unsecured and where security is required it is only in the form of an unsupported directors personal guarantee, meaning no charges against any property are sought or requested. Most business owners, confident in their business trading for at least the next 3 months, have no concern about offering guarantees in these short term circumstances.
Secure your VAT Loan with one of the UK's leading brokers
MacManus Asset Finance is a leading independent UK asset finance brokerage, trading since 2005. We've helped hundreds of British firms access competitive VAT loan facilities to assist their cashflow management via our huge panel of finance providers. We're authorised and regulated by the Financial Conduct Authority.
How to apply for a VAT Loan with MacManus Finance
We make your VAT loan journey as simple as possible.
From your first call, email or completed webform we will act as your trusted partner, understanding your objectives and putting together options.for you to consider
We may need to ask you some general business questions and ask for some financial information from you in order to carefully prepare your personalised quotation from our funding panel.
Once you have reviewed your no obligation quotations and are happy to proceed we will prepare your application and liaise with the lenders to secure the funding you need.
Unlike some brokerages, we do not charge you any payments or fees for our brokerage service, so your engagement with us is entirely cost, risk and obligation free.
Why choose MacManus Finance for VAT Loans?
UK firms are well advised to engage the service of a skilled independent brokerage who can save them time and money by accessing the widest panel of options, who are Authorised and Regulated by the Financial Conduct Authority which requires firms to demonstrate the highest standards of integrity and submit to consistent monitoring of activities, providing the business owner with confidence in the firm they have chosen to work with.
MacManus Asset Finance are one such firm – directly authorised by the Financial Conduct Authority, and with a customer base of almost 300 UK businesses whom we have supported for over 15 years.
This credibility combined with an extensive panel of finance providers, including some of the best priced, and most flexible lenders in the marketplace provides a winning combination.
Our business motto is "Never Just a Number" – and we take pride that our clients never feel like they are just a number to us, as so many business owners are made to feel by larger financial institutions.
Your business success is our business success, we never take our clients for granted, and will always aim to deliver more than our clients expect.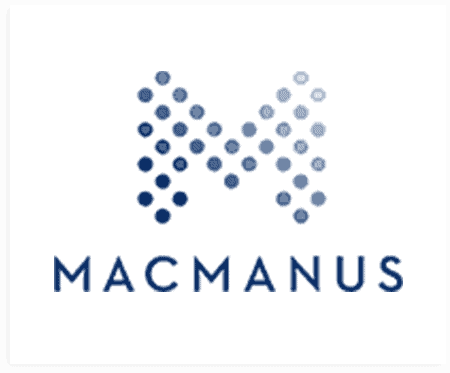 Frequently Asked Questions
What finance periods are available?
VAT loans by their nature are 3 month term loans to fit in with the quarterly VAT cycle.
What rates of finance can you offer?
We will always deliver the best rate of finance possible based on your specific circumstances.
Our extensive funding panel means we can help businesses in every situation, as such every client will receive bespoke pricing based on their credit worthiness, asset type, market conditions and industry appetite that varies from time to time.
Our rates, for the best clients, are market leading and you should have no hesitation in contacting us if price is your motivator.
How long will it take to arrange the finance?
We are super quick. We will provide you with indicative terms within 5 minutes of a conversation.
When you ask us to proceed to application, we will request some financial and business information from you to support the application.
Once received your application will be sent to the finance providers within 60 minutes.
Funders have varying service times from 1 hour to 5 days, but most are around 3 days for a decision.
Once agreed we let you know and can ensure we pay HMRC in good time.
I may need a VAT loan every quarter. Can you assist with this?
Yes, yes, yes.
Most of our clients use the facility every quarter and it becomes an additional cashflow tool that they can rely on.
We keep in close contact with you to ensure we approach the funders at the right time to request approval of each quarters VAT loan – we normally need latest management accounts for each additional application.
Provided a good payment history is maintained it is usually straight forward to get the new facility agreed.
Which finance companies do you work with?
We have active lines with dozens of providers, including most high street bank and most of the major asset finance providers plus a number of niche players.
We haven't been asked to fund an asset that we weren't able to place somewhere.
How much do I have to pay to deal with you?
Nothing. Zero. Not a penny!
For asset finance business we do not charge our clients any fees at all. We are paid commission by the finance providers for successfully placing business with them, and we only get paid if we deliver a finance solution that you are happy with.
As a result we ask all clients to engage with us on the basis of good faith, in that, if we are asked to secure funding and do indeed deliver what we promised, that our clients complete the transaction with us.
Our minimum VAT loan amount is £10,000 however we have no maximum limit.
Each application is considered on its own merits.
Types of VAT Loan we offer
The two main options are Full VAT Loan and Partial VAT Loan
Full VAT Loan
A three month VAT loan is sough to cover the exact, to the penny, quarterly VAT liability of a business.
A copy of the completed VAT return is provided to the funder and once agreed the finance documents are prepared for the precise amount.
Funds can be paid to the business directly, for onward payment to HMRC, subject to lender approval.
Or the business can pay HMRC directly in full in the first instance and then have the VAT payment refinanced a day or so later, subject to proof of payment from the business to HMRC being received by the funder.
The business then repays the loan plus interest in three instalments over roughly the next 30, 60 and 90 days.
Partial VAT Loan
Sometimes businesses may only want to fund a part of their VAT liability and don't require funding for the full amount – the partial VAT Loan is perfect for this situation.
The underwriting process is exactly the same as for the full VAT Loan however a specific amount is requested, rather than the full VAT liability.
As only some of the VAT will be funded by the finance company, the business customer must ensure that the balance is paid to HMRC by the deadline to avoid incurring any surcharges.
Another form of the partial VAT Loan is the 1+2 payment profile, which involves the business customer paying the first installment up front, and making two further payments on 30 and 60 days respectively. This still provides the bulk of cashflow benefit to the business customer and ensures no VAT surcharges are incurred, whilst reducing the overall interest cost.
MacManus Asset Finance Ltd Registered Office: Britannia House, Caerphilly Business Park, Caerphilly, CF83 3GG.  Company Registration Number: 5785432 MacManus Asset Finance Ltd is Authorised and Regulated by the Financial Conduct Authority. Firm Number 821663. MacManus Asset Finance Ltd is an independent asset finance brokerage not a lender, as such we can introduce you to a wide range of finance providers depending on your requirements and circumstances. We are not independent financial advisors and so are unable to provide you with independent financial advice. MacManus Asset Finance Ltd may receive payments(s) or other benefit from the finance provider if you decide to enter into an agreement with them.
MacManus Asset Finance Ltd © Copyright 2020